Refreshed website and ongoing improvements for ForrestBrown
Overview
ForrestBrown needed a new WordPress site and ongoing optimisation each month. As the UK's leading specialist R&D tax credit consultancy, ForrestBrown wanted a high performing, flexible and secure site to demonstrate their expertise, generate leads and track conversions.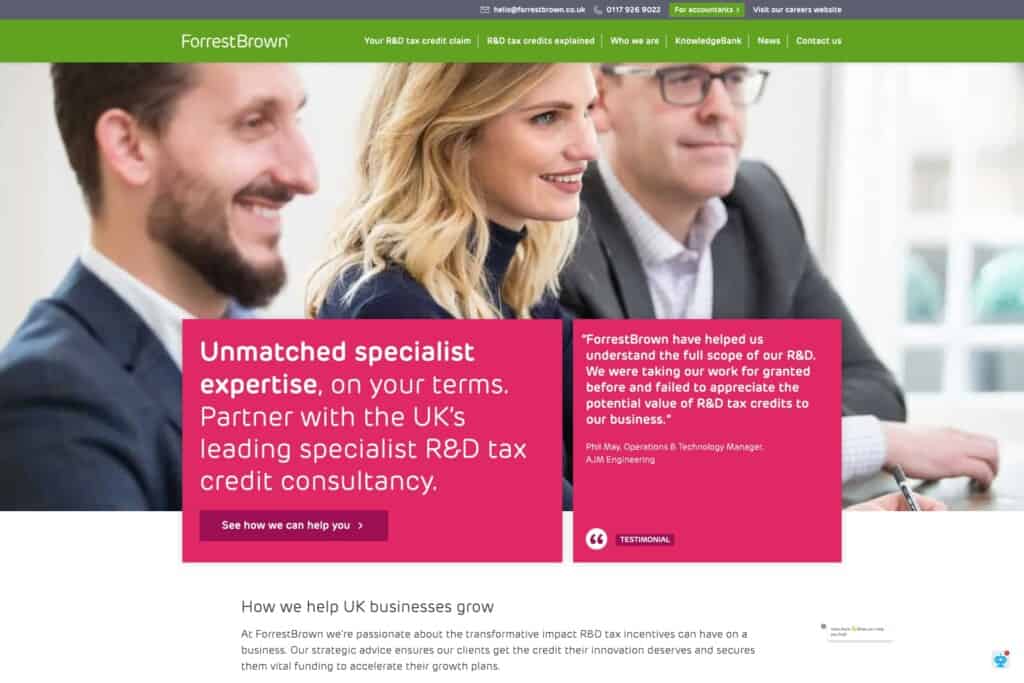 What the client wanted
High speed and high performance site to boost their SEO strategy, along with a focus on Core Web Vitals
Schema markup for FAQs to encourage position zero in Google search results
Complex goal and conversion tracking using Google Analytics, Tag Manager and GA4
Modular block-based components to provide flexibility for quickly building out pages without limitations from templates
Custom landing pages for campaigns using custom blocks
The story
Market-leading UK tax relief specialist, ForrestBrown, supports innovative British businesses to grow and create jobs. Atomic Smash has been collaborating with ForrestBrown to take its industry-leading website to the next level and create a suite of ready-to-go modules that increase site speed and efficiency.
Our work together started with improvements for ForrestBrown's previous website, then progressed to delivering a full site rebuild after examining how effectively the site was performing for their target market.
Following the launch, we've continued investigating and suggesting areas for continual improvements and implementing these changes every month through our Always Evolving model. The site is now more responsive, easier to manage, achieves the best site speeds to date and has scope for evolution.
About ForrestBrown, the UK's leading specialist R&D tax credit consultancy
Since it was founded in 2013, the experts at ForrestBrown have helped businesses create the equivalent of 10,000+ technical jobs in the UK. Their work is transformative and their success stories are nothing short of inspiring.
The goal for ForrestBrown's website was to be the number one source of online information about R&D tax relief in the UK. First-time visitors can rely on the site to walk them through the steps for claiming R&D tax relief, while experienced claimants are given a quick route to their next claim.
The site is both a knowledge hub and a lead generation source, which showcases the team's unmatched expertise and sector specialist support.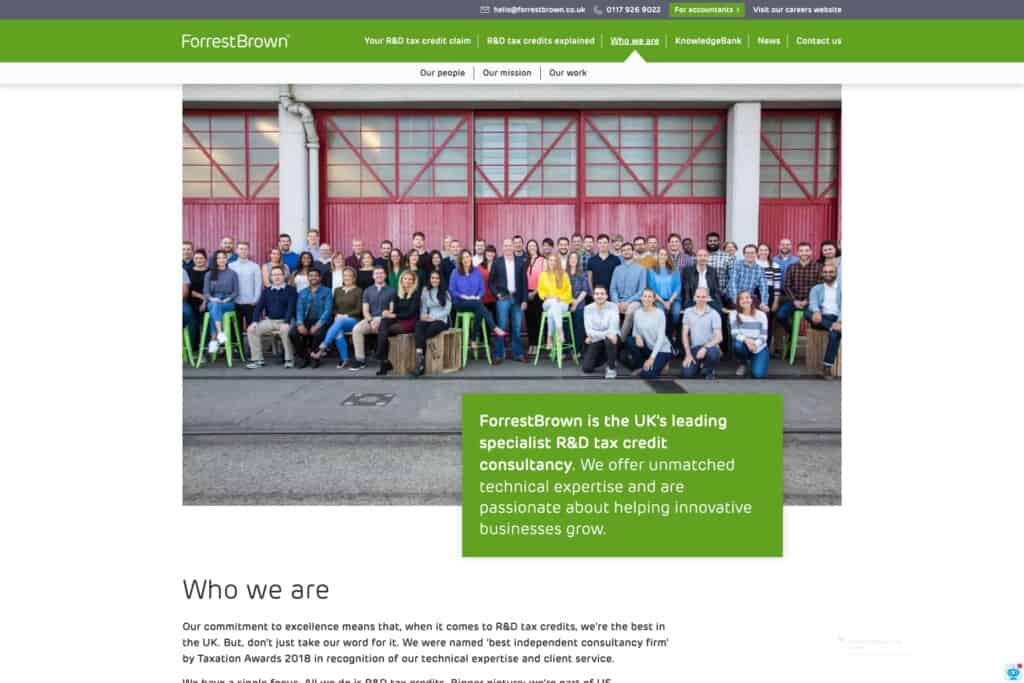 Challenges: Online positioning and SEO optimisation
Adapting ForrestBrown's online presence
ForrestBrown's role within its sector is changing. In the early days, its focus was to educate the market and make business owners aware of how government incentives could help them. Now, ForrestBrown is taking the lead in defining the future of R&D tax relief.
In a fast-paced industry that calls for new information to be added to the ForrestBrown website quickly, efficiency was essential. With varying levels of expertise available online, it was important for the brand to secure its place, front and centre of a mature and competitive marketplace.
The new site is built with a suite of modules to enable us to roll out new page layouts in a more flexible way, allowing us to be more efficient and deploy new pages more quickly.

Anna Walton
Senior Marketing Operations Manager at ForrestBrown
Maintaining ForrestBrown's SEO position
With a strong existing organic search presence, improving site speed and making sure everything is technically sound is an ongoing priority for ForrestBrown.
Building on its promising SEO position, there was room for improvement from a technical perspective, with special attention paid to an existing codebase that was "Frankensteined" together.
For us to maintain our search position we needed to make sure that everything was technically sound. The new website has improved our site speed, which in turn has helped our Google search rankings. Atomic Smash has been with us every step of the way.

Anna Walton, Senior Marketing Operations Manager, ForrestBrown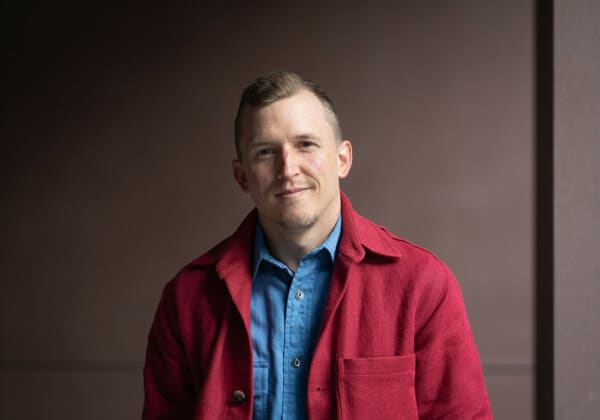 Websites that work harder
Get results by making your website work harder for your business. Talk to us about by optimising your digital platforms little and often: email piers@atomicsmash.co.uk
How we helped ForrestBrown maintain its position as the most trusted source of information in its sector
When we take on a new client, we prioritise their business needs. When that involves managing an existing codebase, we'll proactively suggest areas for improvement and identify how our clients can maximise opportunities.
For ForrestBrown, we provided continuous delivery to create a site that could develop with their business, and through our close collaboration, Atomic Smash became a technical extension of the ForrestBrown team.
Later, when ForrestBrown decided to rebuild the website from the ground up, our already-established relationship gave us an advantage in identifying what the new site needed to achieve. We knew the consultancy's goals, we'd learnt about the market and we understood the direction they were heading in.
The Atomic Smash team is responsive. They get us. And they're just nice people!

Anna Walton, Senior Marketing Operations Manager, ForrestBrown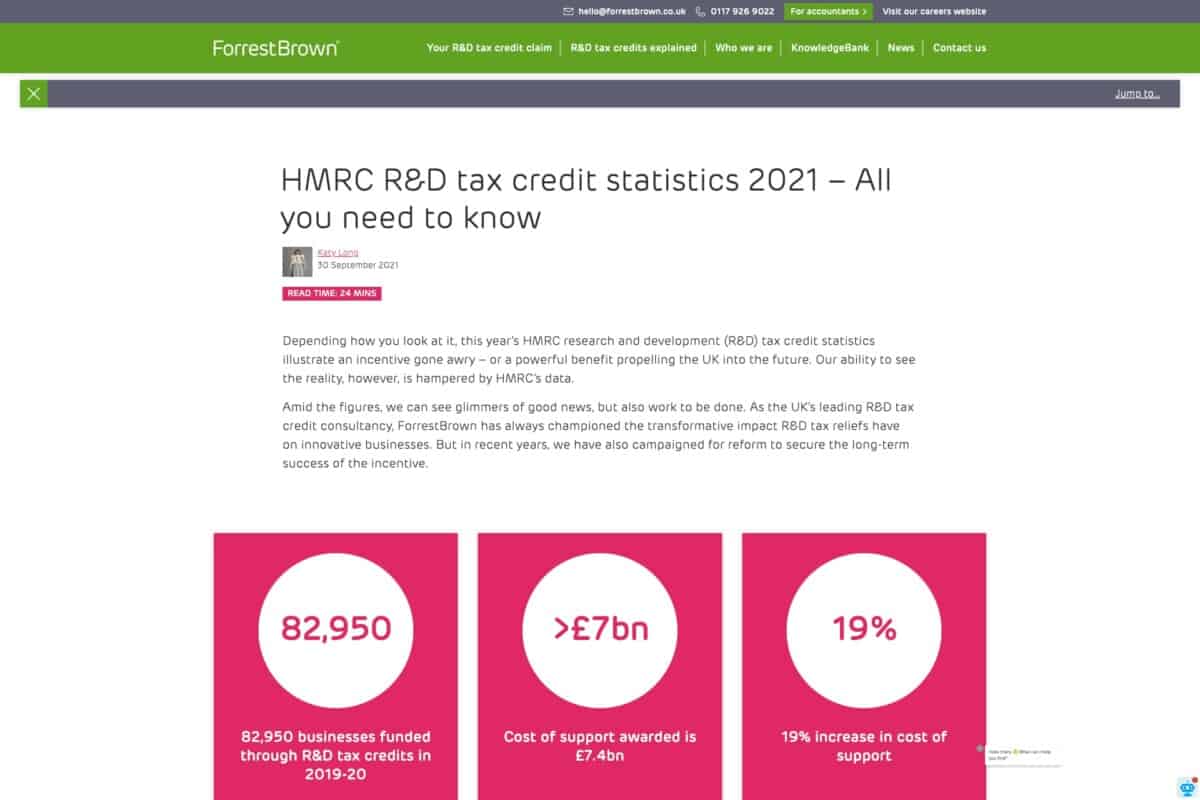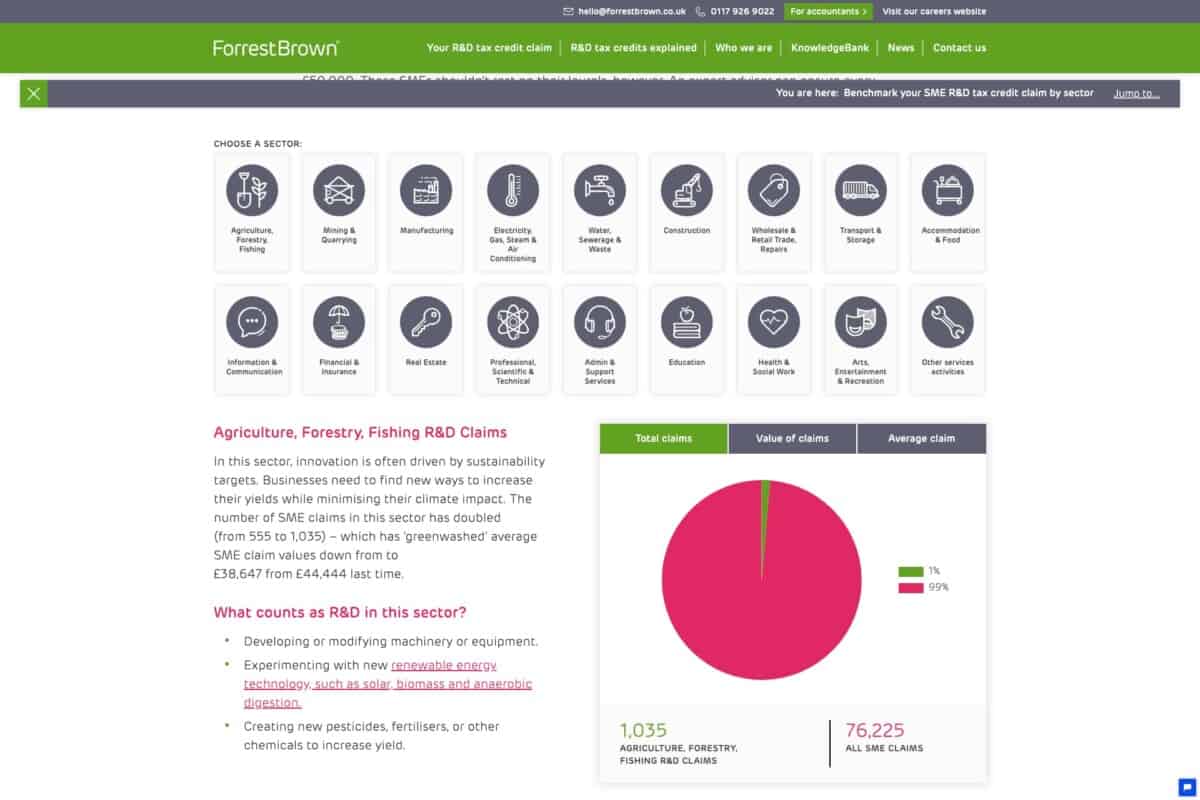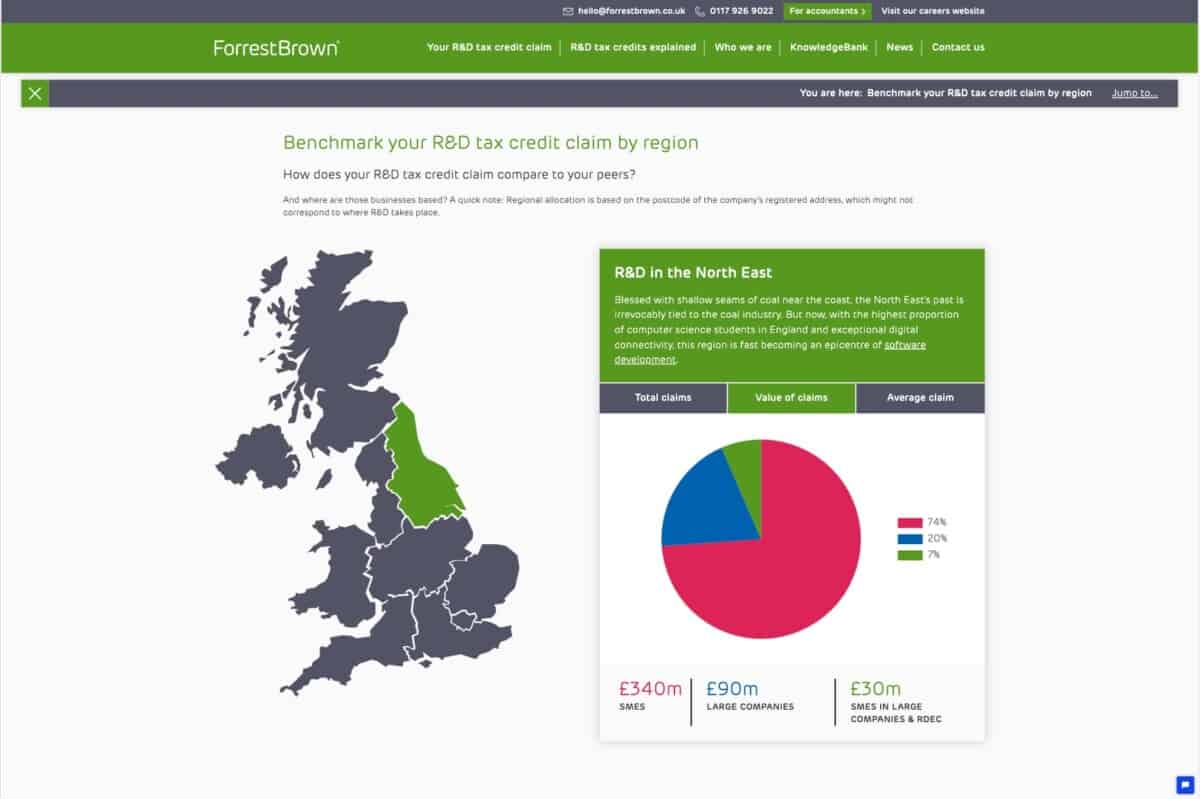 Since building and launching the new site, we continue to work together with ForrestBrown to deliver further improvements and optimisations for a site with strong foundations that are technically sound and relevant to the needs of its target audience.
This follows our Evolve to Solve ethos and demonstrates our Always Evolving model in action. We continuously seek out solutions, making sure the site is efficient, effective and aligned to business goals.
Atomic Smash knows our business so well and understands what we're trying to achieve. They support us with our projects but are also proactive in suggesting areas for development where they think we could be capitalising on new opportunities. Having a close relationship where they know who we are and what we're trying to do helps us. It's an ongoing partnership.

Anna Walton, Senior Marketing Operations Manager, ForrestBrown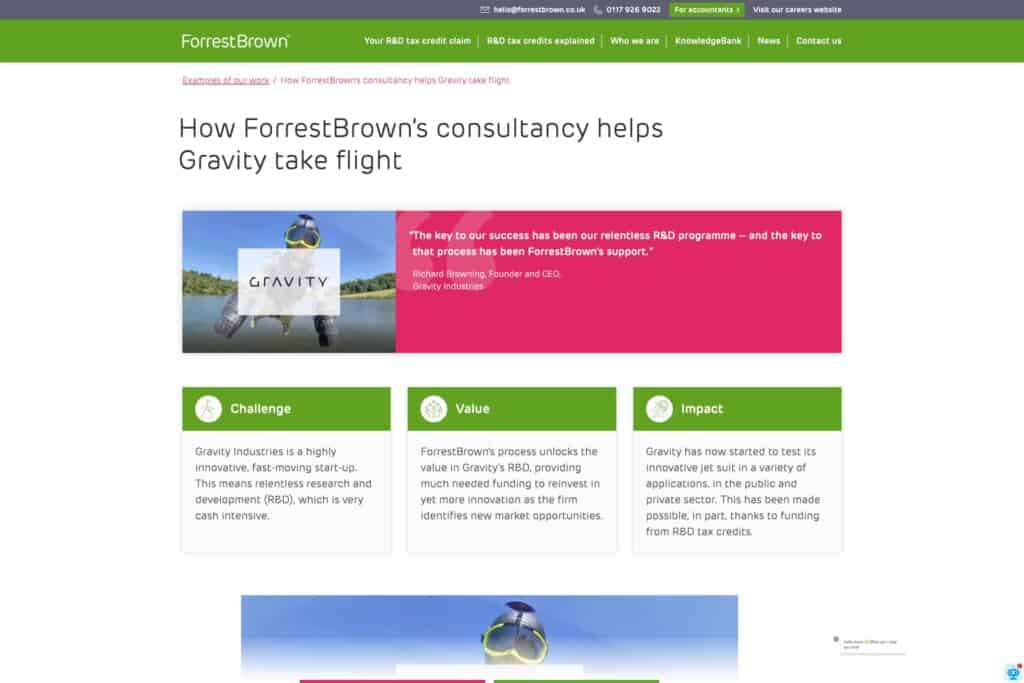 How ForrestBrown empowers UK businesses of all sizes to push boundaries is inspiring, and matching their experts' enthusiasm for innovation comes naturally to us at Atomic Smash.
The last word
The new site was designed to be cleaner and faster to help secure our search performance. It has put us in a great position to get ahead of the latest algorithm updates from Google.

Anna Walton
Senior Marketing Operations Manager at ForrestBrown