What's in store for eCommerce in 2022 and beyond?
We don't have a crystal ball to see the future, but we do have access to industry experts who have kindly shared their insights to help us look ahead. Here are our predictions for eCommerce in 2022 and beyond.
eCommerce businesses need to keep up with the many ways that changes in consumer behaviour affects how people want to shop, and the implications for selling and shipping.
We predict this will come sharply into focus through sustainability and social commerce: shoppers are making purchases on their terms and, increasingly, they will lose interest in brands that won't adapt.
Further shifts may come more gradually, but will likely be amplified by demands for customer convenience and the impact of rising consumer acquisition costs.
Together, these may converge to encourage eCommerce shops to experiment with different business models and areas of focus, such as subscription models, site speed and using statistics to better understand customers.
The five Ss of eCommerce
Subscriptions
Sustainability
Social commerce
Speed
Statistics
Predictions for the future of eCommerce: Subscriptions
If you want an online store that generates recurring revenue, building in a subscriptions model could be the perfect solution.
In 2020, Zuora surveyed international adults across 12 countries to learn more about changing consumer preferences in the subscription economy and found that 78% were using subscription services, up from 71% in 2018.
Zuora noted that the subscription businesses they've been surveying have consistently grown five to eight times faster than traditional businesses.
Their conclusion for the trajectory of the subscription-based ecosystem – growing by nearly 6x (more than 435%) over the last 9 years – is that the world of business is becoming increasingly defined by relationships instead of products.
Expert observations of subscriptions for eCommerce follow, with perspectives from Piers Tincknell, Co-founder & Managing Director at Atomic Smash; Ken Lam, Director of Customer Success at WooCommerce; and David Hill, Head of Marketing at Huboo Technologies.
Customer loyalty is more valuable than ever. Retain your customers by giving them the best experience while shopping with your brand.

Piers Tincknell
Co-founder & Managing Director, Atomic Smash
The value of customer loyalty is on the rise, particularly as marketplaces now account for half of online sales, making brand building more difficult in the eCommerce landscape.
Added to this, increasing competition – fuelled by more and more brands now selling online – is increasing customer acquisition costs.
Customer retention is likely high on the agenda for any eCommerce business and nurturing the customer relationship through a subscription model is a ripe opportunity.
Offering subscription-based products or services is one of the best ways to control customer acquisition costs, while also building customer loyalty. The savings made from having just a single cost of acquisition for repeat purchases can be passed onto customers, which will help you maintain a more loyal customer base.
Ken Lam,
Director of Customer Success, WooCommerce
It's a logical step for more WooCommerce stores to introduce subscription options, providing convenience for consumers, loyalty for brands, and more stability for business owners.
With the additional benefits of adding predictability to sales, costs, and inventory management, it's no surprise that at WooCommerce we're seeing more and more business owners introducing subscription models to their online stores.

Ken Lam, Director of Customer Success, WooCommerce
Subscriptions create customer loyalty in practical terms with recurring payments but also through stronger brand connection.
Nearly two-thirds of subscribers (64%) feel more connected to companies providing them a direct subscription experience in comparison to companies they shop with for one-off purchases.
Subscriptions also make growth planning easier with revenue you can rely on, as highlighted in The Ultimate Guide to Running a Successful Subscriptions Business, by WooCommerce.
We've seen a sustained increase not only in the number of eCommerce businesses adopting the subscription model using our fulfilment service, but also in the growth in subscription orders for those who have worked with us for a while.

David Hill
Head of Marketing, Huboo Technologies
David says there are a number of reasons why we've seen this trend from both the consumer and brand perspectives:
The pandemic has encouraged consumers to adopt subscriptions to avoid having to make repeat visits to stores for the same item(s)
Trial offers on a consumer's first order to boost acquisition and activation
Either familiarity with the product (knowing what you're going to get) or trying new product lines that they wouldn't have ordinarily ordered (surprise and delight)
Steady revenue levels and more accurate forecasting for brands
Fulfilment providers can also provide bespoke packaging for subscription boxes and items, helping to enhance a consumer's affinity with a brand and increasing repeat orders over time.

David Hill, Head of Marketing, Huboo Technologies
Predictions for the future of eCommerce: Striving for sustainability
We're at a pivotal point for sustainability in eCommerce. There is an increasing appetite for sustainable product materials, packaging and delivery, plus interest in a circular economy. Many shoppers who want eco-friendly options will also pay more for them.
According to Global Web Index, 41.8% of shoppers want brands to be socially responsible and, in a Google survey, 82% of shoppers said that sustainability is more top of mind now than it was before the pandemic.
Google searches for 'sustainability' increased 63% from 2018 to 2021. The demand for ethical and sustainable choices is there and it's up to brands to deliver.

Tess Coughlan-Allen
Head of Growth, Atomic Smash
B Corps like Patagonia, Etsy and Ben & Jerry's all set great examples that other eCommerce businesses can learn from. The latter practices values-led sourcing, which involved identifying where ingredients come from and tracing them back to origin, looking at the suppliers involved and scoring the farmers through 11 indicators of sustainable agriculture.
Ben & Jerry's outlines all of the steps involved to take their products from the farms and through the factories, all the way to their quality assurance processes and global distribution.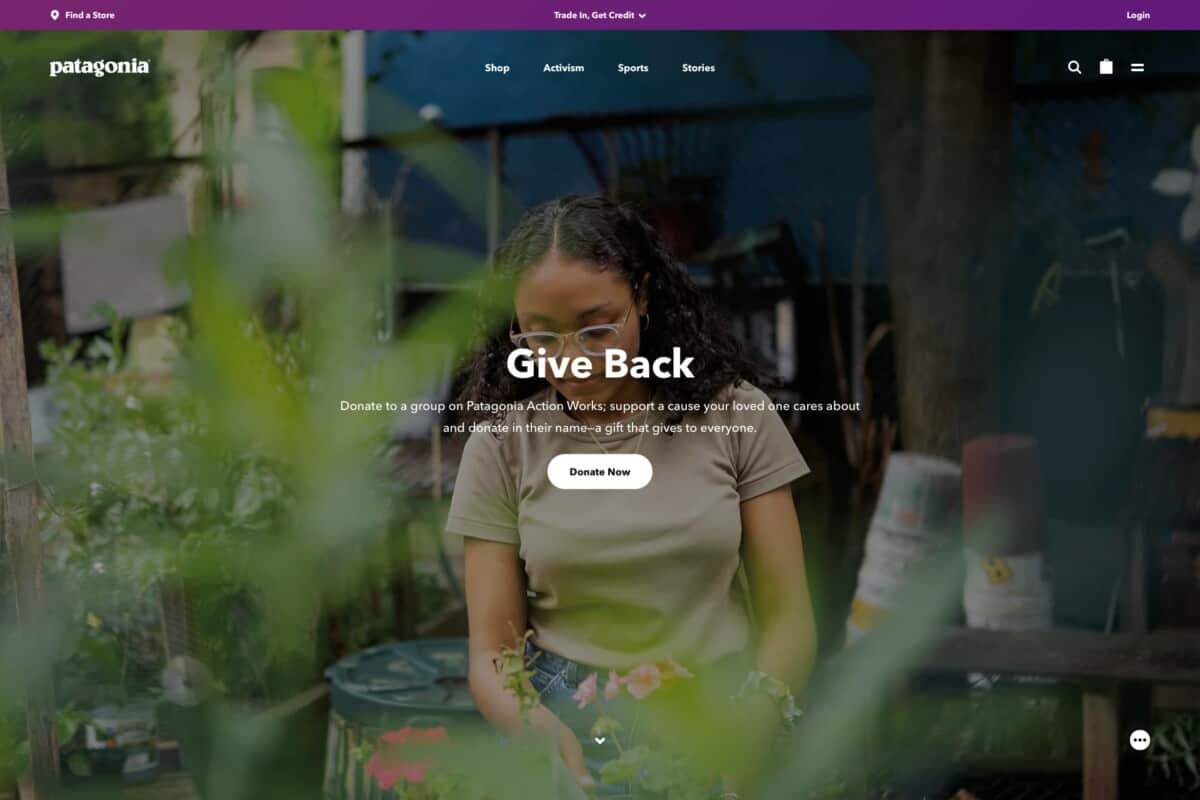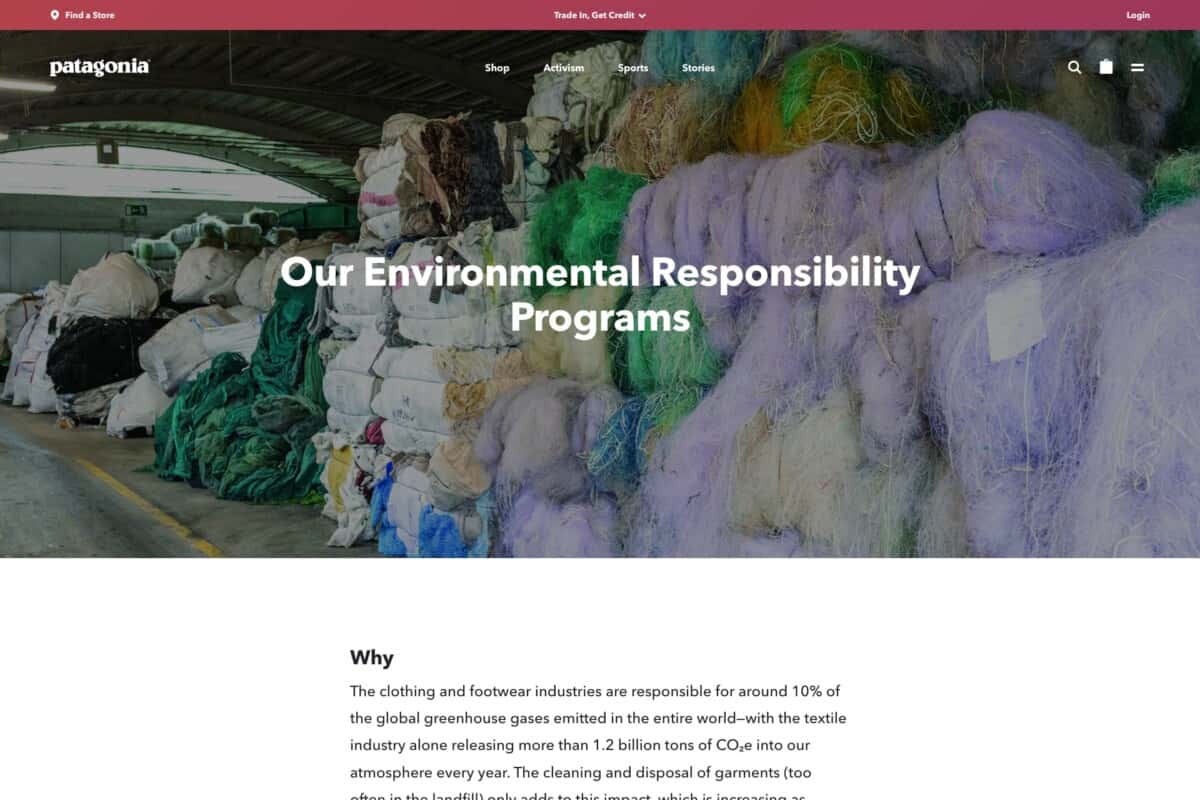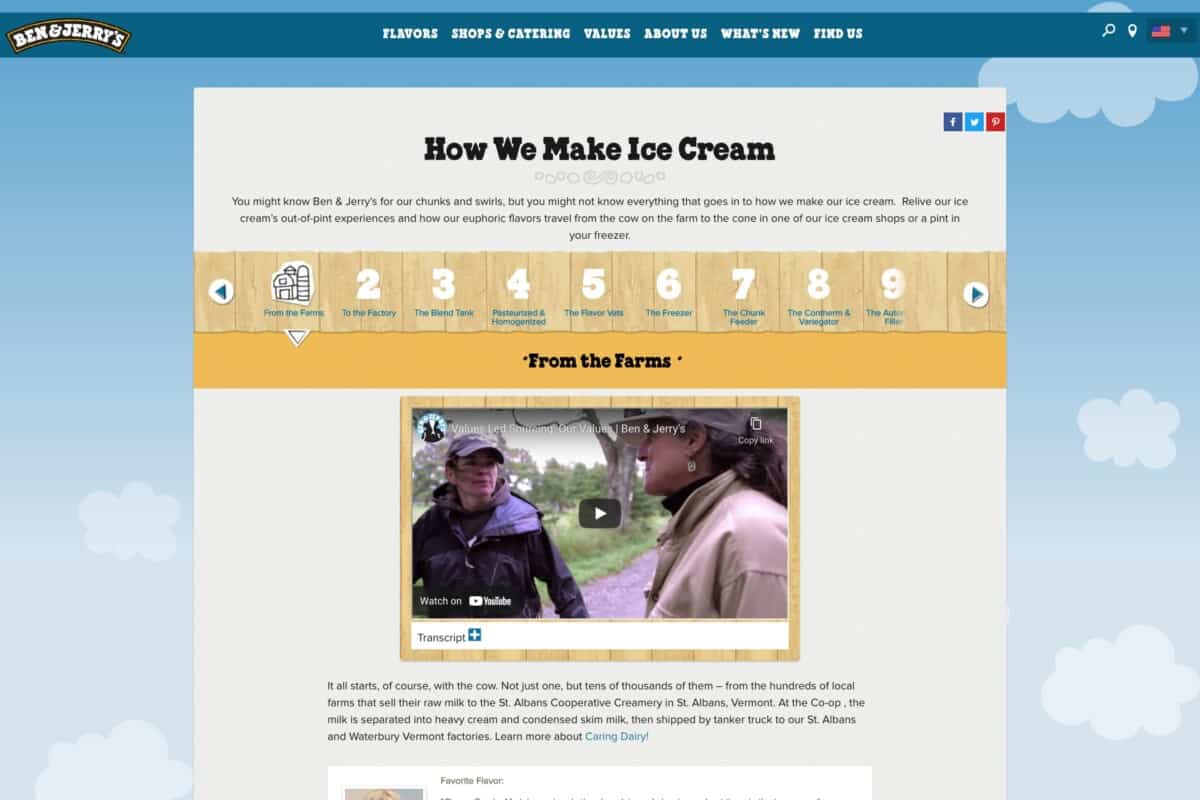 Patagonia provides support to environmental nonprofits around the world through its self-imposed Earth tax, 1% for the Planet and is a great example of a brand being transparent about its environmental impact. By 2025, Patagonia pledges to have 100% reusable, home compostable, renewable or easily recyclable packaging.
By the same year, the brand pledges to eliminate virgin petroleum fiber in their products and only use preferred materials like organic and Regenerative Organic cotton, hemp, recycled polyester and recycled nylon (which accounts for 88% of the materials used across their products in 2022).
By 2030, Patagonia pledges to be net zero across the entire business.
Back in 2019, Etsy became the first global eCommerce company to completely offset carbon emissions from shipping. In April 2020, the company shared stats from customer search patterns:
We've seen a 60% increase in searches on Etsy for eco-friendly items in the last year, with buyers increasingly searching for biodegradable, reusable and of course vintage items.

Etsy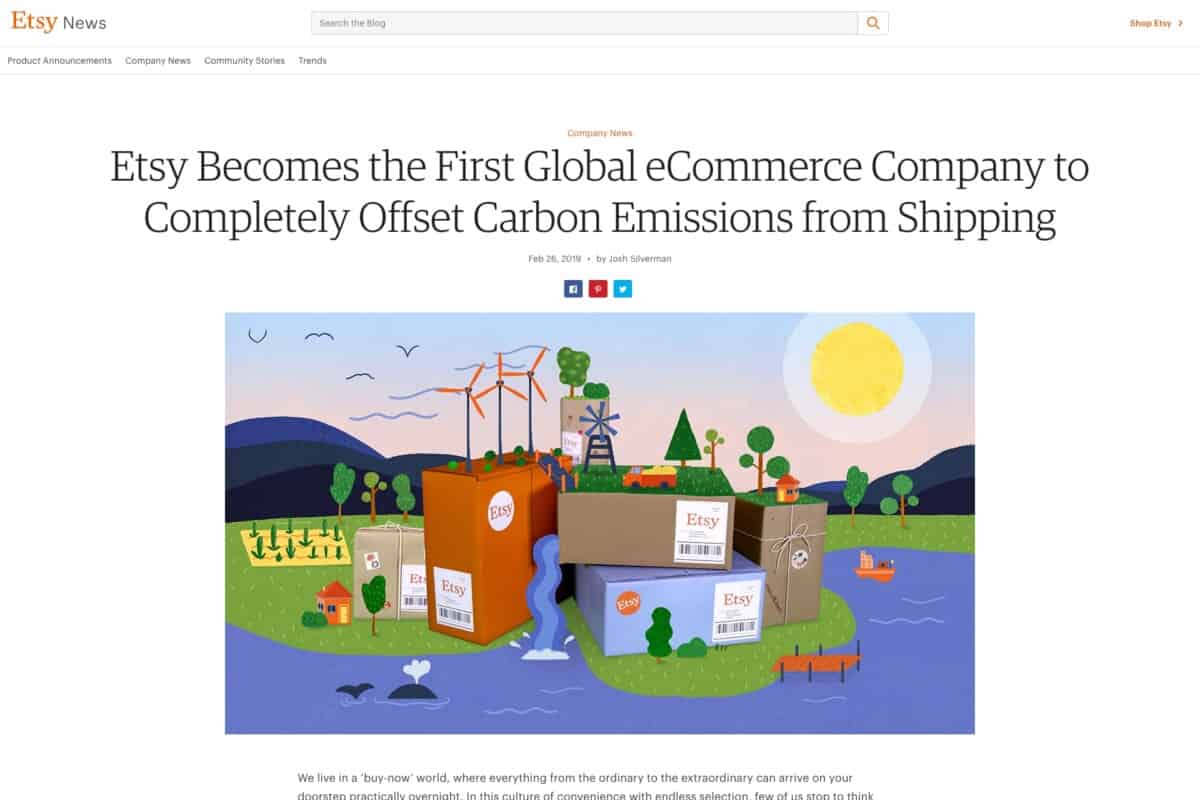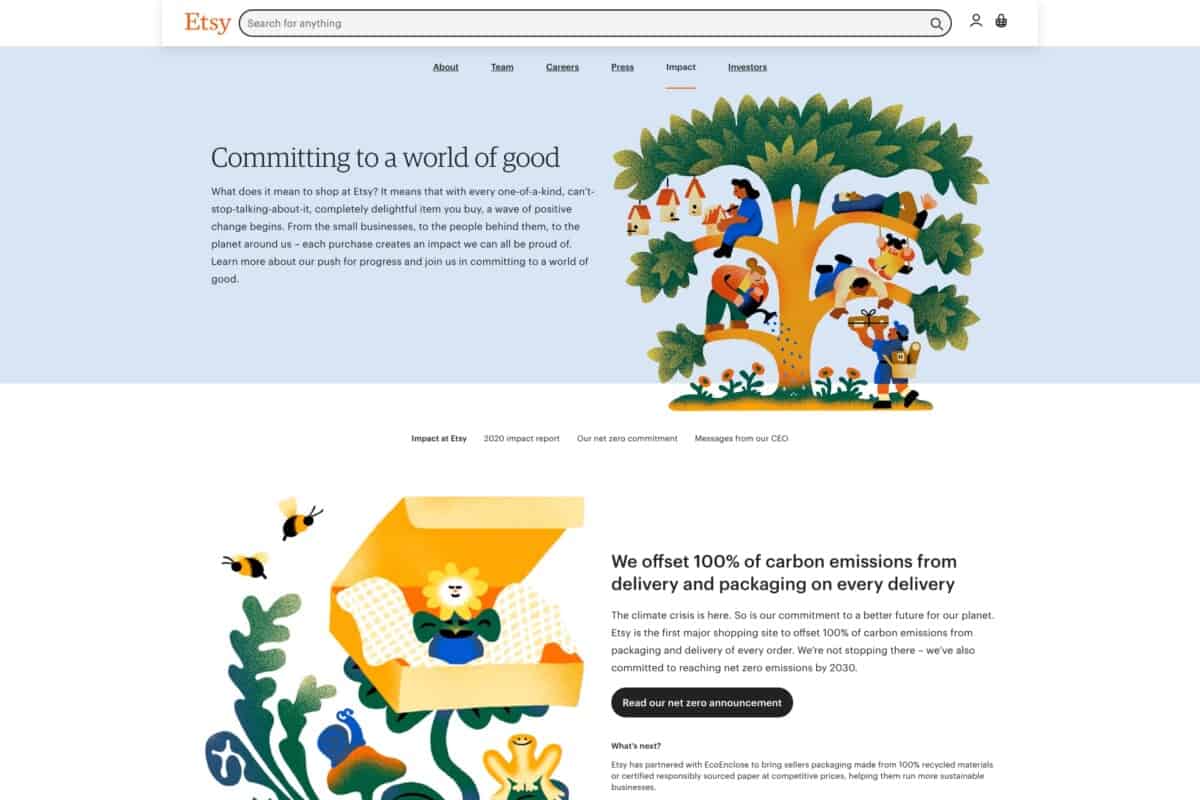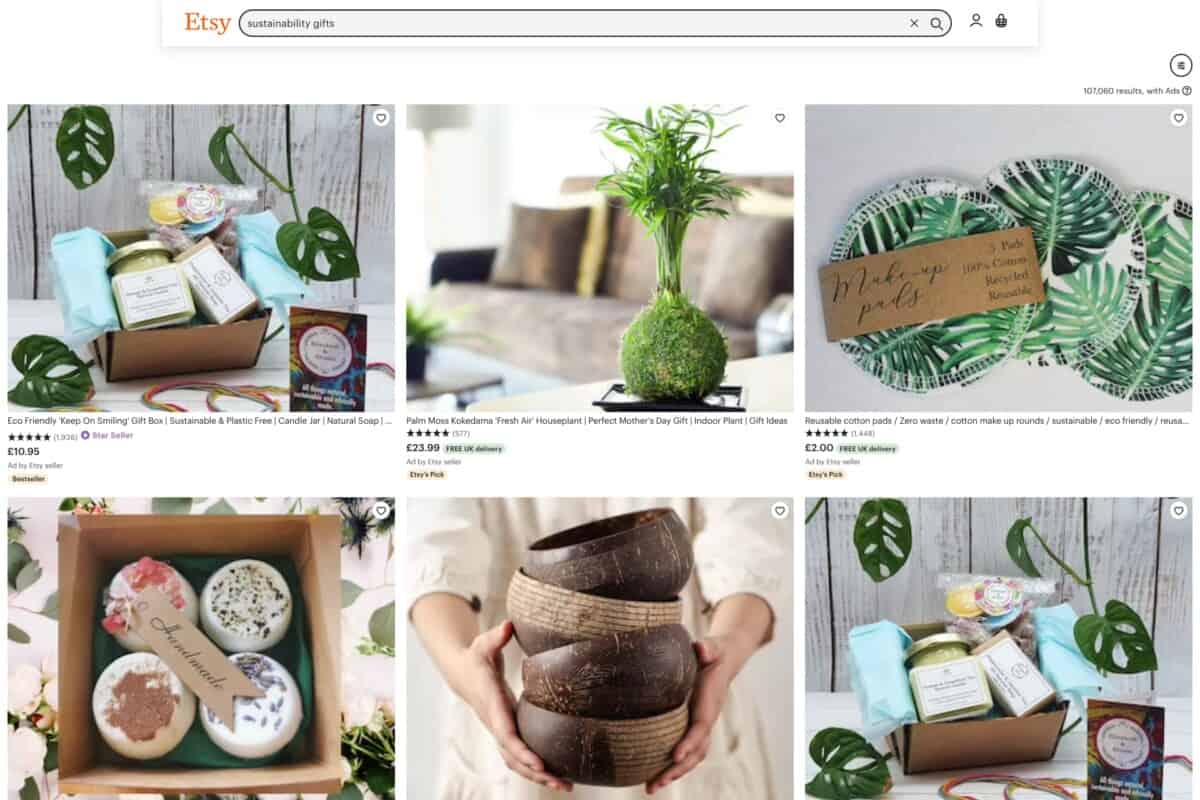 Increasingly, consumers are willing to pay more for ethical or sustainable eCommerce businesses and are able to see past greenwashing.
Moving forward, we predict that while the likes of sustainable packaging will be non-negotiable, alone it will not be enough. eCommerce stores that are building sustainability more deeply into their existing businesses through the likes of carbon neutral transactions and ethical sourcing will stand out.
Predictions for the future of eCommerce: Social Commerce and omnichannel presence
Online shopping isn't limited to browsing a brand website from a laptop at home anymore, it also happens on social media platforms accessed using mobile devices and from anywhere while customers are on the go.
There's space for eCommerce businesses to expand by embracing social commerce and creating a consistent brand experience through omnichannel marketing and shoppable content. This means connecting with your customers where they are and diversifying your sales channels.
Social media selling and a coherent omnichannel presence helps brands meet customers on their platforms of choice and keep pace with the latest shopping habits. Enter Instagram Checkout, enter TikTok Commerce.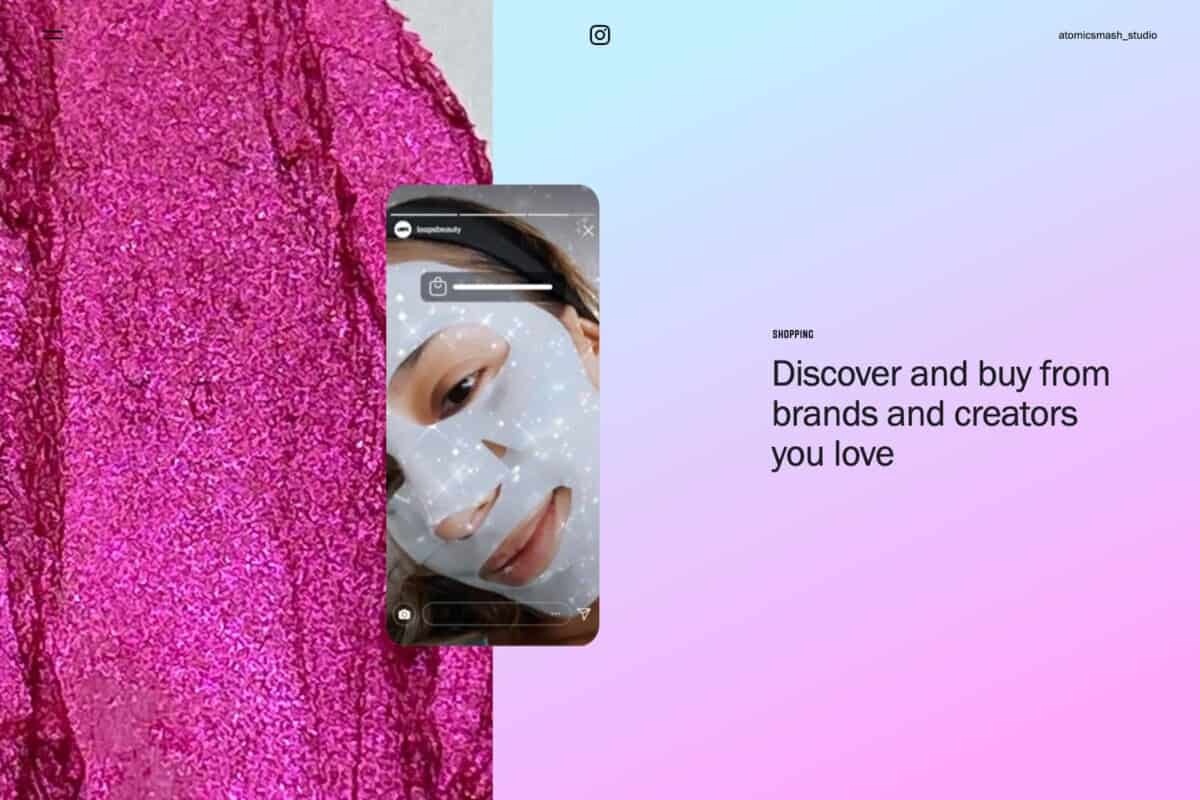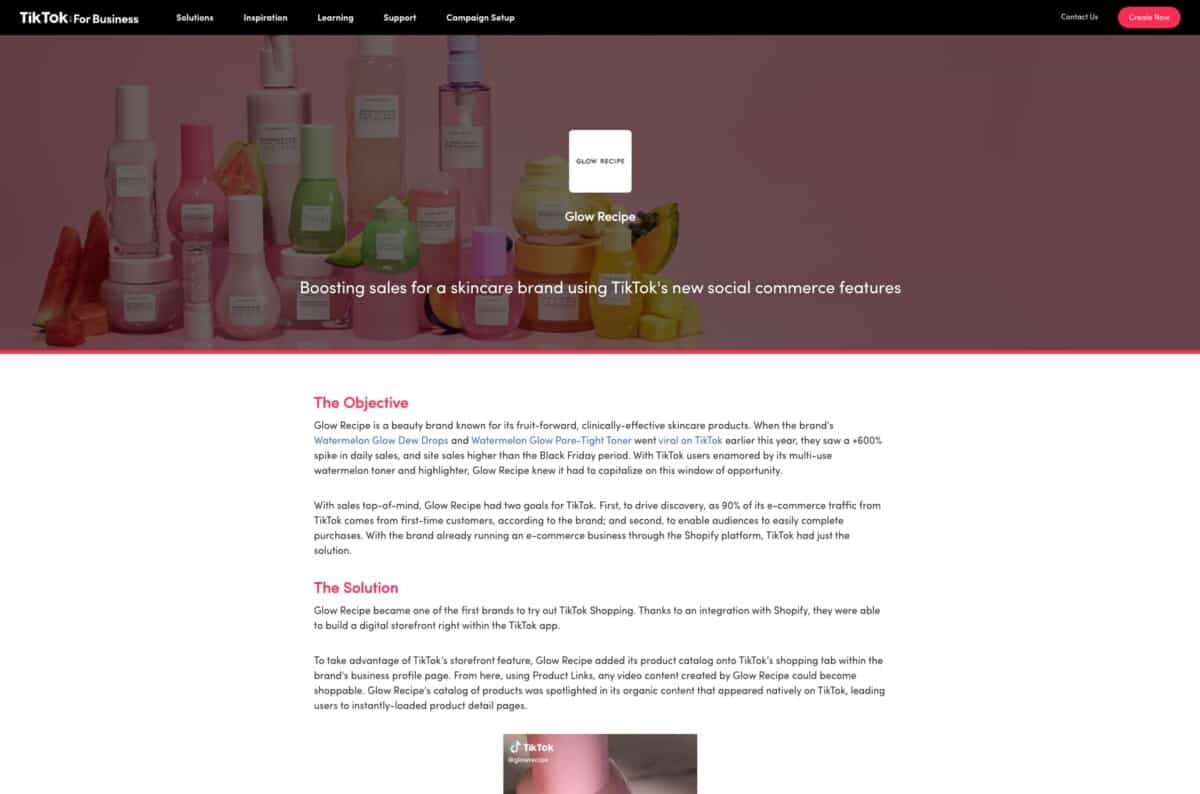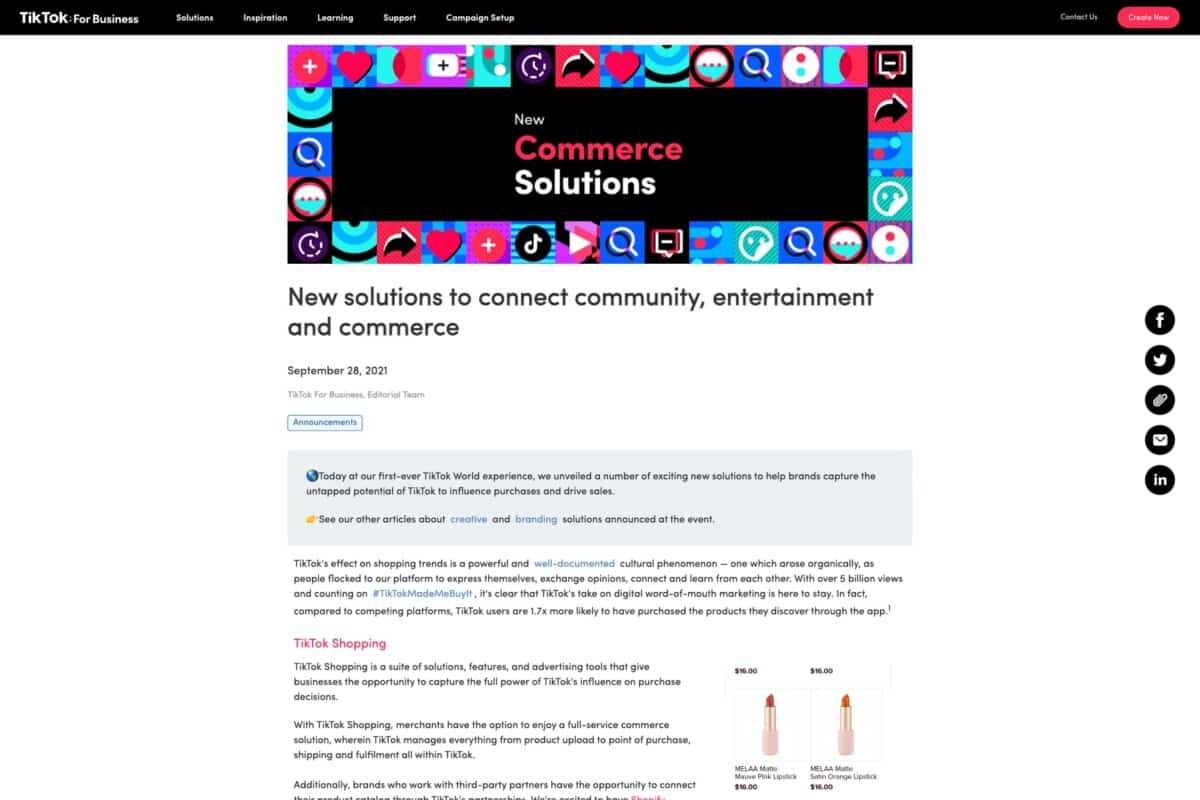 We predict that the eCommerce businesses seeing the most success will be sensitive to changes in consumer behaviour and embrace these changes in the ways that are right for their brands.
Trying something new is best delivered through a combination of playfulness and cold hard data, where you can run A/B tests to measure the effectiveness and cohesiveness of your customer touchpoints, journey and experience.
Start by looking closely at the lives of your consumers and building out your findings thoughtfully and strategically in a way that brings together customer expectations, technology and logistics.
One area to explore is live shopping, highlighted by Timothy Willis, Head of eCommerce, South West at PushON.
Brands have been yearning to find ways to bring the in-store experience online. Live shopping offers just this. Think the QVC shopping channel, but digitalised.

Timothy Willis
Head of eCommerce, South West at PushON
The concept is very simple, Tim says. A customer joins a live broadcast hosted by a member of staff or an influencer of a brand. They can ask questions through live chat, see products being demonstrated and buy as they watch.
What makes live shopping so valuable is that it nurtures an engaging interaction between brands and customers. It's predicted that the trend will account for between 10% and 20% of global eCommerce sales by 2026.

Timothy Willis, Head of eCommerce, South West at PushON
Predictions for the future of eCommerce: Speed
Fast page speed has a measurable impact on conversion rates, making it an obvious area of focus for eCommerce sites. Website visitors are more likely to convert (performing whatever the desired action is) if website speed and performance is optimised and pages load quickly.
Added to this, search engine crawlers reward page load times that are faster, contributing to higher organic SEO ranking and getting more customers to your site in the first place.
Alongside straightforward navigation, a user journey with as few clicks as possible and an efficient checkout, lightning-fast site speed and optimal performance has a significant and measurable effect on conversion rates.
An eCommerce store that is slow to load doesn't offer a good user experience – and your website visitors don't have the patience for poor UX. You'll see the impact in your bounce rates or cart abandonment rates: According to Think With Google, 53% of visits are abandoned if a mobile site takes longer than three seconds to load.
Making sure your website is fast is crucial for conversion rate optimisation (CRO), particularly as your customers are likely becoming more accustomed to paying instantly for products via mobile and social commerce, which can cut the length of the buying experience significantly.
On your eCommerce site, it will become increasingly important to match this immediacy while making the most of the opportunity to upsell additional products.
If you're aiming to improve CRO, one area you should not discount is payment speed. You can increase the speed of checkout by offering a variety of payment options and currencies or enabling guest checkout.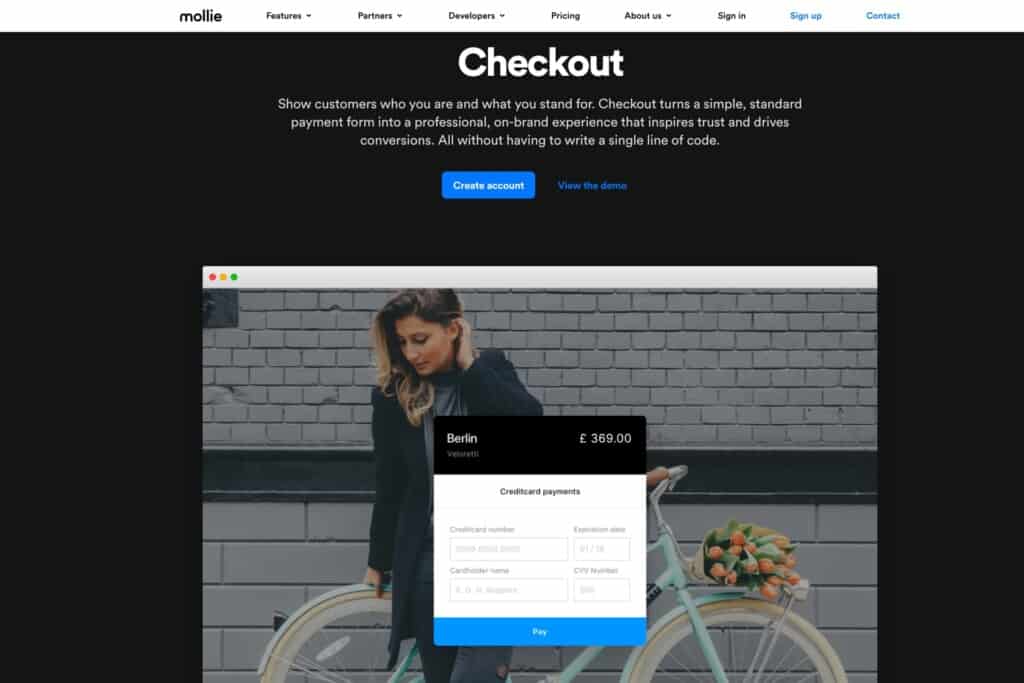 When it comes to conversions, seconds count. While increasingly important, this isn't new – research from more than a decade ago by Aberdeen Group found that every 1 second delay in site page load:
decreases customer satisfaction by 16 percent
decreases page views by 11 percent
decreases conversion rates by 7 percent
Emilia Swiecicka, Partnerships Manager UK at Mollie, has explored this for the modern consumer.
The eCommerce world has gone through a tremendous acceleration in the last 2 years, and it's not slowing down. Shoppers have become accustomed to the convenience, speed and accessibility that online ordering provides and they expect a frictionless experience. Is the website taking time to load? Switch. Is their preferred payment method not available? Switch. Is the website taking you to a new page to pay? Switch. 

Emilia Swiecicka
Partnerships Manager UK, Mollie
The stakes are becoming ever higher for fast page load speeds, but when you get it right, you'll be boosting sales, improving visitor engagement and helping your online store retain customers.
It's more important than ever to be in tune with the customer and look at what will make them return. The subscription market alone is growing by 75% annually so look at options such as subscriptions, loyalty programs and buy-now-pay-later which can be a game changer.

Emilia Swiecicka, Partnerships Manager UK, Mollie
Predictions for the future of eCommerce: Statistics and measuring success
Analytics tools help you gain insights about your shoppers' behaviours. Having a frictionless user journey through your eCommerce platform is essential for converting a potential customer into a paying customer.
Use data to learn where points of frustrations may be and test out solutions to reduce abandoned carts and improve conversions.
Whether you are planning which products to promote, refining your tactics for tackling abandoned carts or measuring how well your upselling systems are performing, using data and analytics can have an enormous impact on your bottom line. Take an interactive approach where you make tweaks regularly and test the impact, while ensuring any changes that work can be sustained or amplified long term.

Piers Tincknell
Co-founder & MD at Atomic Smash
Satisfied customers are both short-term and long-term wins for your eCommerce store, not only because you have converted a sale or because they are more likely to shop with you again, but also by increasing your chances of referrals and good reviews.
This will help you navigate challenges posed by the changing landscape of customer acquisitions, with the end of third party cookies and rising digital ad costs.
Benchmarking plays an important role in measuring success. The team at ComparetheMarket.com are constantly working to improve mobile performance and striving for the best user experience. They use clear and visible data to achieve this:
Through measuring mobile speed and performance, our product teams have a strong sense of accountability for the real-time customer experience. We built dashboards — visible to everyone in the office — which helped motivate the teams through a mixture of gamification and healthy competition.

ComparetheMarket.com
What brings customers back to your brand, time and time again? Good products, high-quality customer service, engaging content, rewards and discounts – all of these things contribute.
Using reliable tools for measuring and interpreting data will help you make the right business decision for your eCommerce store moving forward, as Bryce Adams, Founder of Metorik, highlights.
Keeping track of important metrics like average order value and daily revenue is key to running a successful WooCommerce store. With more data and insights, you can make better decisions that move the needle and help you grow your business in a sustainable and repeatable way.

Bryce Adams
Founder, Metorik
Shaping up your eCommerce store
How you can get started
Subscriptions
Seek out a fulfillment partner to help you set up logistically and a digital partner to get subscriptions on your eCommerce site set up technically.
Sustainability
Take things one step at a time and don't be afraid to reach out to others. If you don't know where to start, book a workshop or expand your reading list. Consider how you can partner up with other organisations that share your sustainability goals and values to learn from one another or start bringing in changes that your consumers want to see.
Social commerce
If you're using WooCommerce, hooking up your social media channels and your site can be achieved through integrations such as the WooCommerce Instagram integration. This will enable you to showcase product images through an immersive storefront and turn your posts into ads and create shoppable posts and stories.
Speed
Test your performance with Google Lighthouse to see how well your site is performing now. Consider moving to a high performance website host and implementing a plugin that will compress image size, but get rid of any unnecessary plugins.
Statistics
First thing's first, get benchmarking. Use tools to support you measure and interpret your eCommerce site data. Make tweaks wherever there's room for improvement to test out what works best for your audience.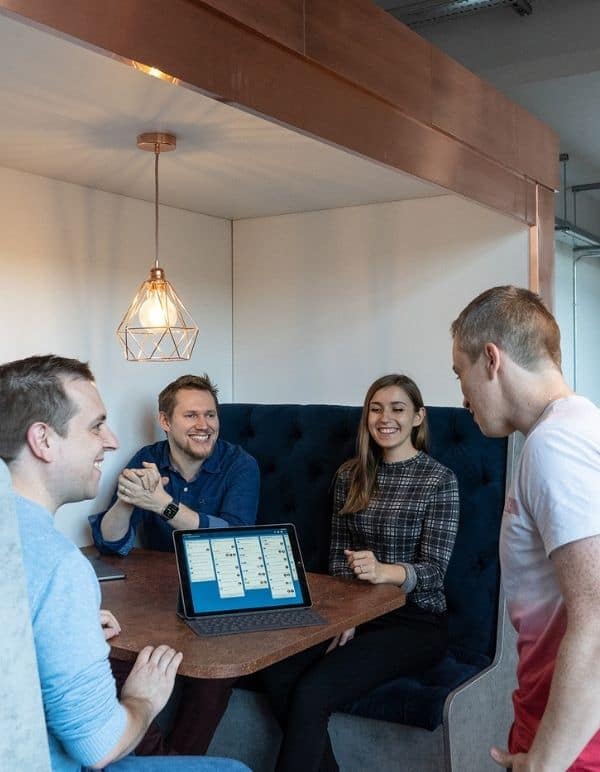 Level up your WooCommerce store
We're experts at optimising WooCommerce stores to get them working as hard as possible. By rolling out iterative improvements, Atomic Smash can drive your store forward and boost ROI.
Takeaways
It's prime time for experimentation
The future of eCommerce is highly connected to the way you make people feel.
Do you know what your customers care about? Have you identified why they may or may not buy your products? Are you making your customers' lives easier with a subscriptions model and catering to the increasing demand for improved sustainability?
Do you deliver the optimal shopping experience with fast page speed and seamless user journeys? Are you making customers feel at home by also connecting with them on their turf and maintaining a consistent omnichannel brand experience?
All the while, you should be benchmarking regularly so you can measure progress, refine your efforts and set up your eCommerce store for success. Check your assumptions about what engages and converts users by building A/B testing campaigns.
This can become an ongoing process with iterative changes, finessing your site and business activities in line with what resonates with your audience. With each small tweak, you'll be getting closer to achieving your business goals.